News
Day of Russian science has been awarded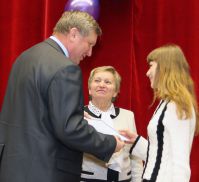 In the 7th of February, 2014, there was a solemn meeting of Kristall collective representatives devoted to the Day of Russia Science.
There was given an evaluation of Kristall performance in 2013 year in the speech of the Director General Vladimir P. Iliyn.
The most distinguished members of Kristall collective in the field of development, mastering and advancement of Kristall technical-scientific production were awarded during the meeting.